WEKA Industrial Services was assigned to dismantle a chocolate processing line for a customer from Belgium. The equipment had to be dismantled, packed and loaded onto trucks. Among other machines, conches weighing up to 16,000 kg were dismantled in this project.
Project Brief
A customer from Belgium has bought a complete department for processing chocolate from the traditional company Hachez in Bremen, Germany. Our task: professional dismantling including electrical dismantling, taking the equipment out of the building, packaging and loading of all the machines for transport to Mexico. Some of the machines (two melangeurs) should be prepared for transport to Belgium.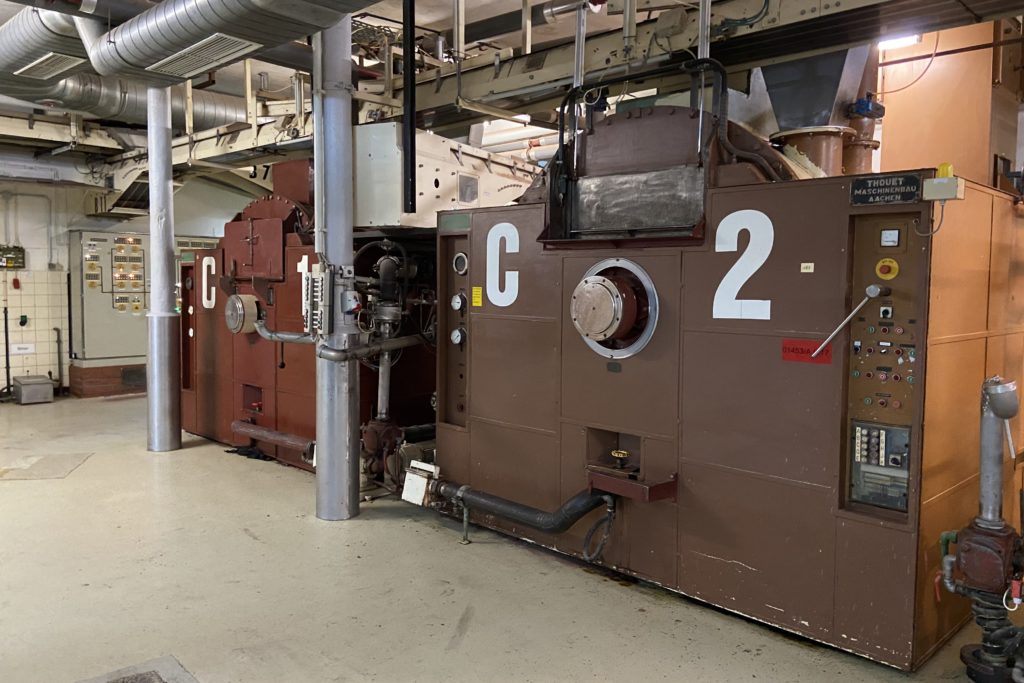 Machines to be dismantled
During this project, numerous machines for chocolate processing had to be dismantled. These included various refine rollers from Bühler and conches made by Thuet. The systems with the highest total weight were around 16 tons.
The dismantling was characterized by limited space, which made maneuverability, especially with the large conches, a particular challenge. In addition, the floor covering consisted of a soft building material, so that 3 mm thick metal sheets had to be placed under the conches during the take-out process, in order not to damage or deform the floor covering.
The following systems and machines were dismantled in the course of the project:
8 pcs. Conches manufactured by Thouet
1 pc. Conche manufactured by Bindler & Schneider (approx. 15-20 tons total weight)
1 pc. Conche manufactured by Petzholdt
4 pcs. Five-Roll Refiner manufactured by Bühler
1 pc. Chocolate mixer from Beetz
1 pc. Two-roll refiner from Bühler
2 pcs. Mills from Bühler
3 pcs. melangeurs from Carle & Montanari
Complete stainless steel belt transport system for chocolate mass
All electrical cabinets associated to the production line
Equipment used for Dismantling
Due to the high deadweight of the individual machines and the risk that the flooring of the factory could be damaged if the machines were rolled over the floor without further precautions, we had to guarantee a smooth process with the appropriate material and equipment. In particular, the following material was used.
18 to forklift including fork extension
1.5 to forklift truck
6 pieces of metal plates with the dimensions 100 cm x 150 cm and a thickness of 3 mm
31 euro pallets
12 pieces of squared timber with a cross-section of 10 cm x 10 cm
5 to cable hoist puller
1.5 to cable hoist puller
3 to chain hoist
800 kg chain hoist
8 pcs. heavy-duty castors
2 pallet trucks
Various tools such as Angle grinder, welding machine, drills etc.
Manpower and Duration of the Project
On average, 4 of our dismantling specialists were permanently employed on this project, 2 electricians and 2 mechanics. From the start of the dismantling of the systems to the final loading, the project took 40 days.
Contact us!
Do you have a similar project in the pipeline as the one described here? Are you relocating a machine or even your entire production facility to another location? Then please contact us. You can call at any time, write an EMAIL or send us an inquiry using our contact form. We will contact you immediately and talk about your project together – of course, free of charge and without obligation!
Click HERE to get to our contact form.